When it comes to painting, the industry is much broader than many people realise. For example, painting houses, shopfronts, and factories are three separate areas entirely, each with its own special set of requirements. So, what does commercial painting mean? What do commercial painters do? And what paint do they use? In this article, we're going to look at the meaning of commercial painting in more detail and highlight the key differences that separate it from residential and industrial.
What is the meaning of commercial painting?
Commercial painting meaning – is a branch of painting that focuses on the commercial sector. This covers larger-scale paint jobs such as office buildings, shop fronts, restaurants, and so on.
On the other hand, condos and houses are residential in nature, and factories and warehouses are industrial.
It is important to understand the differences between the three, particularly when looking for professional painting service.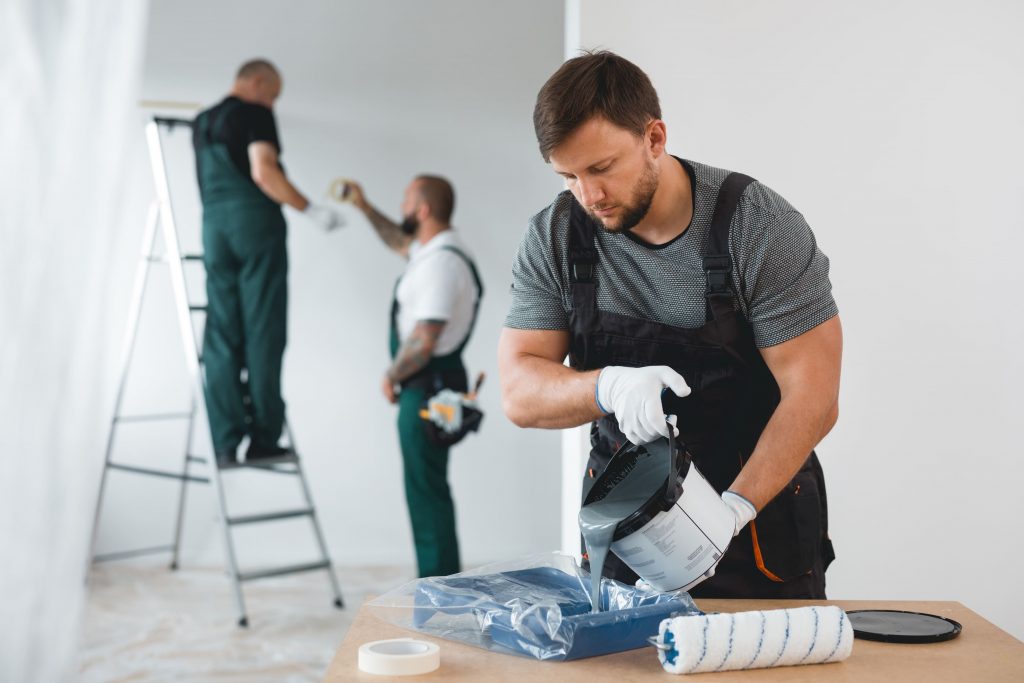 What do commercial painters do?
So, what do commercial painters do? What separates them from residential and industrial painters? To make it clearer than the surface differences, we're going to talk you through the job description of a commercial painter.
Commercial painter job description
A commercial painter will participate in both the painting of interior and exterior projects and is typically responsible for providing industrial spray and painting on various surfaces, including coating, priming, power washing, and the general aesthetic maintenance of a commercial type building/establishment.
Before a commercial painter can begin the actual painting itself, they start by preparing the various target surfaces for painting. Depending on the condition of the surfaces, there are many things that may be required.
The job description of a commercial painter, therefore, includes pre-painting tasks, utilising a variety of priming techniques, including the use of sandpaper, various wire brushes, abrasive blasting, scraping old surfaces, filling holes with poly-filler, washing walls, and removing old surfaces such as pre-existing paint and wallpaper, in order to prepare the surface for a new application.
Filling holes in the surface is done using various things like caulk, putty, and/or plaster. Once cracks and corners are sealed to ensure that they are no longer susceptible to moisture and other exposures that can ruin a paint job, the painting process may begin.
In addition to walls and other surfaces, the commercial painter may also be required to apply a variety of finishes on different equipment, bridges, and other structures.
In some cases, the commercial painter may also be required to mix various colours and oils in order to acquire the ideal colour or consistency.
A commercial painter will also be required to maintain their vehicles and equipment, including PPE, and they will manage the job site with their crew members, ensuring health & safety procedures are adhered to.
Here is a more detailed summary of the various tasks that a commercial painter carries out on the job:
The application of varnishes, polyurethane, paint, primers, and other specialist coatings, depending on the client requirements
Mixing or choosing pre-mixed paints, oils, thinning & drying substances, matching colour to spec and client requirements
Masking and preparing the target surfaces for any necessary coatings
Blending and reducing paint systems for the application of paint in order to meet client specifications and requirements
Cleaning and maintaining all equipment, removing any trace of paint
Repairing and remodelling any imperfections in existing surfaces, ready for final paint applications
Carry out both interior and exterior painting on commercial buildings, including equipment and other structures
The preparation and protection of all work surfaces including laying down drop cloths and masking to keep carpets and laminate flooring clean and free of damage
Carrying out high quality work including taking any necessary corrective actions for conditions that may impact the job quality negatively
Setting up and maintaining any necessary scaffolding and ladders or elevated work platforms for safe and secure usage
Using brushes, spray guns, rollers, and other necessary paint-application equipment
The installation of various specified nozzles for spray guns, including replacing filters and screens as necessary, whilst maintaining sprayer equipment properly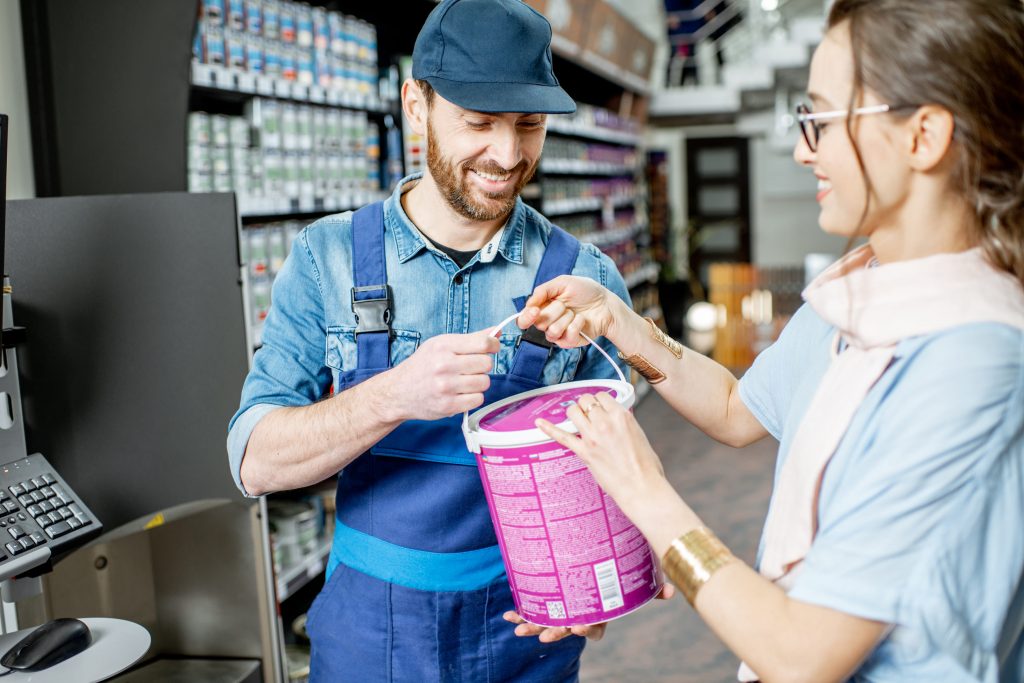 What paint do they use? (commercial painters)
So, what type of paint do commercial painters typically use? There is no one single answer to this question given that the type of paint that commercial painting contractors will use varies depending on a wide variety of factors. Whether it is an interior or exterior paint project will also influence the type of paint used. In any case, here is a list of the various paint types that commercial painters utilise on a daily basis:
Flat and/or matte finishes: for non-reflecting finishes
Eggshell finishes: a richer look with additional durability over traditional flat paint finishes
Satin finishes: slightly glossier finish with superior durability to wear and tear
Semi-gloss finishes: an optimal choice for projects that require greater durability (often used in restaurants and kitchens etc.)
Gloss finishes: gloss tends to be reserved for high-traffic areas, including wooden surfaces such as trim, doors, and other architectural details
For interior paint jobs: interior paint jobs typically require paints that are formulated with the following qualities – organic pigments, binders that promote adhesion to the substrate, additives that enhance certain paint qualities, solvents that emit lower VOCs.
For exterior paint jobs: exterior paint jobs typically require paints that are formulated with the following qualifies – inorganic pigments that fade slowly, special binders that allow the paint to stand up to various weather conditions (including excessive UV exposure), solvents that release more VOCs (making the paint less appropriate for indoor use).
Conclusion
In conclusion, a commercial painter focuses on customer-facing establishments such as shops, hotels, and restaurants. They use a variety of different paint types, depending on the requirements of both the client and whether it is an interior or exterior, or high traffic area.
We hope that you have found this article helpful! Best of luck with your new commercial painting project.